Michelin Latitude Sport 3 (Acoustic) Tyres Available in Trowbridge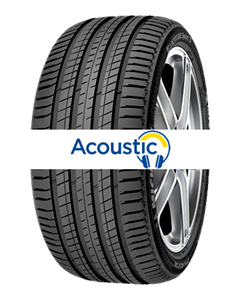 Latitude Sport 3 (Acoustic)
A premium SUV tyre with robust design for dynamic handling, the MICHELIN Latitude Sport 3 is engineered for braking performance on wet roads and longevity.
MICHELIN high performance SUV summer tyre
Acclaimed by premium car manufacturers
High level of braking on wet roads
Designed for good longevity
Robust design for dedicated SUV road driving
Features and Benefits
Dynamic handling for high performance safety on wet roads
The MICHELIN Latitude Sport 3 SUV tyre is ideal for precision handling and braking performance on wet roads, thanks to an innovative rubber compound. A continuous central rib ensures high torque transfer during acceleration and braking, with an optimised sculpture for high level safety in wet conditions. An SUV high performance tyre without compromising on safety.
Designed for longevity and mileage performance
Built for longevity, the MICHELIN Latitude Sport 3 SUV premium tyre is made using an innovative rubber compound for good mileage performance. So you can enjoy more miles of driving, whether commuting or leisure trips.
Robust SUV design
When you face the ravages of the city jungle roads, uneven surfaces and construction work can cause serious damage to your tyres. MICHELIN Latitude Sport 3 SUV has a two-ply carcass for great robustness. Dedicated for on-road use, this premium summer tyre is designed for the SUV driver who demands the assurance of reliable performance.
Enjoy the sounds and reduce the noise
Enjoy a 20% reduction in perceived noise level with the MICHELIN Latitude Sport 3. Featuring Acoustic Technology to reduce or dampen noise resonance. Listen to music not road noise on your drives.