Michelin CrossClimate SUV Tyres Available in Trowbridge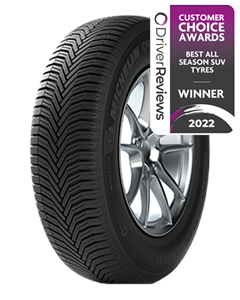 CrossClimate SUV
BENEFITS
Safety in every weather conditions.
Excellent all-around performance in:
- Dry braking(1)
- Wet grip(2)
- Snow braking(3)
Always moving
- Excellence in snow traction(4), being the first-ever summer tyre to obtain the 3PMSF winter certification for snow usage.
- Light off-road use with specific tyre architecture.
High value for money.
- Excellence in longevity (5)
- Optimized fuel consumption (6)
TECHNOLOGY
An intelligent new mix of compounds and a specific tyre architecture combining stiffness zone in the sidewall and double casing(7)
- Excellent grip in every weather condition(1,2,3)
- Optimized fuel consumption(6)
- Light off-road use
The combination of a unique V-shaped tread pattern with new 3D self-locking sipes
- Excellent dry performance(1)
- Strong snow traction(4)
- Excellent tyre longevity(5)
The innovative association of bevel-edged tread blocks with higher-performing sipes
- Effective dry braking(1)
- Great snow braking(3) and traction(4)