Hankook Winter I*Cept Evo3 (W330) Tyres Available in Trowbridge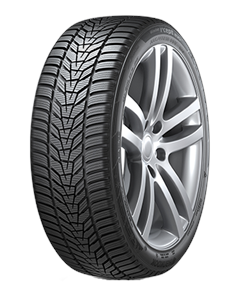 Winter I*Cept Evo3 (W330)
An all-round winter player, not only excellent control in the snow but also advanced wet and dry performance in cold weather.
FEATURES
Snow Pick Traction Grooves
Unidirectional tread design in a gull wing shape improves the traction and braking performance on snow.
3D winter sipe
Serrated winter sipe improves braking performance in winter driving. This special sipe enhances driving stability by minimising block movement.
Water Pipe Kerf
The water pipe kerf placed inside the shoulder block improves performance on wet surfaces by efficiently transporting water out of the main groove.
Aqua pine compound
Maximising wet and snow grip by adopting highly refined resin.
Tyre Structure
Advanced silica compound for wet performance
The high loading silica compound provides an increased wet performance. Natural ingredients ensure the rubber's flexibility in a wide temperature range.
Application of High Strength Steel Belt Wire
A full cover steel layer increases the tread stiffness and keeps straight stability even throughout powerful acceleration. The application of special edge covers improve steering response.
Increased the number of steel belt cords
Additional steel belt cords improve handling performance.
Dual layer fibre stiffener
The dual structure of the carcass fibre stiffener provides tyre durability and stress resistance.
High Strength Bead Wire
The extra high tensile bead wire provides driving stability even throughout powerful acceleration.
Sorry, we currently do not have any tyres with the Winter I*Cept Evo3 (W330) pattern in stock.
Contact us to see if we can order these in for you.