Hankook Ventus S1 evo3 EV K127E Tyres Available in Trowbridge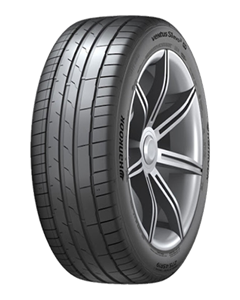 Ventus S1 evo3 EV K127E
The Hankook Ventus S1 evo3 EV K127E is an ultra-high-performance summer tyre that ensures a high level of driving safety for the speed-happy owners of sports EV's. The stylish asymmetric design, as well as crisp steering response and long tread life, along with the excellent traction both in the wet and in the dry, make the perfect match for the V speed index and higher.
The summer tyre Hankook Ventus S1 evo3 EV K127E got the asymmetric tread pattern that was developed on the basis of the passenger-car tire model Ventus S1 evo3 К127. Due to optimization, its central section was focused on increasing the efficiency of water evacuation from the contact patch while driving on wet pavement, while the outer side was designed to increase lateral stability.
Central section of the tread
The road holding ability, as well as the crispness and preciseness of the steering response is also ensured by wide ribs.
Shoulder areas
In addition, by reinforcing the breaker-strip ply with aramid fibers, the engineers modified the inner construction of the Hankook K127E Ventus S1 evo3 EV, which was done to maximize traction at the beginning of the movement, since the maximum torque of EV's comes immediately after you turn on the engine.
Tyre Construction
It is note that the Ventus S1 evo3 EV tyres have been picked as OEM for the fully electric 4-door coupes Porsche Taycan, which is evidenced by the "NF0" sign on the tires' sidewalls.