Hankook Dynapro AT2 (RF11) Tyres Available in Trowbridge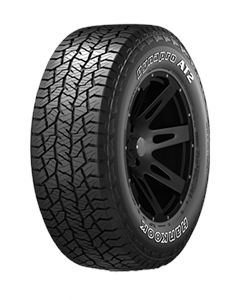 Dynapro AT2 (RF11)
Hankook Tyre released the new Dynapro AT2 RF11, an all-terrain tyre with major improvements that makes it your go to tire if you are looking for off-road traction and on road manners. Designed to provide superior performance both on and off road, the new AT2 RF11 is replacing the Hankook Dynapro AT-M RF10 and comes in more sizes than it predecessor. The Hankook Dynapro AT2 RF11 has improved all-terrain performance and delivers a quieter ride compared to the AT-M RF10. The biting edges and dual shoulder lugs give it extra durability and add enhanced puncture and cut resistance. The aero shoulder technology further reduces noise for optimum on road driving. You can take this tire anywhere with its M+S rating and 3 Peak Mountain Snowflake Symbol indicating it is rated for severe snow service. The Hankook Dynapro AT2 RF11 has some great improvements over the Dynapro AT-M RF10.
Features
Biting block edges for increased snow traction
Interlocking shoulder lugs for better stability
Block chain control system – increases ride comfort & reduces road noise
Multi-directional tread design which offers an increased traction in wet, winter and off-road conditions, reduces road noise and increases ride comfort.