Continental ContiCrossContact LX Sport ContiSilent Tyres Available in Trowbridge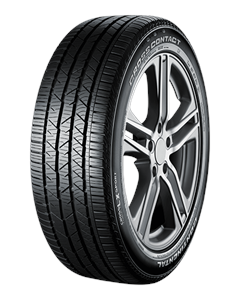 ContiCrossContact LX Sport ContiSilent
Outstanding handling for on-road and general off-road use
Excellent braking performance on dry and wet roads
Optimised rolling resistance
Outstanding handling for on-road and general off-road use
The ContiCrossContact™ LX Sport guarantees improved dry handling and an enhanced transmission of force from the tyre to the road.
Excellent braking performance on dry and wet roads
The tyre boasts shorter braking distances in wet conditions as well as improved on and off-road traction.
Optimised rolling resistance
The tyre contour optimizes rolling resistance.
*ContiSilent™ tyres offer an innovative noise-reducing technology. Its main purpose is to provide you with more comfort, peace and quiet by reducing interior car noise on all road surfaces. Continental ContiSilent™ tyres are equipped with an inner tyre absorber, made from polyurethane foam, which is attached to the inner surface of the tread area. In winter, in summer and all year round, the foam stays intact, no matter the temperature.