Bridgestone Ecopia EP600 Tyres Available in Trowbridge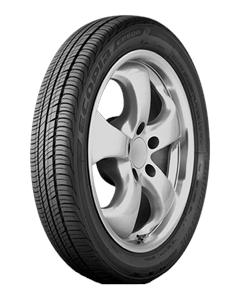 Ecopia EP600
The Ecopia EP600 featuring ologic technology is Bridgestone's ecologically oriented Grand Touring All-Season tire originally developed for the drivers of BMW i3 and i8 electric cars. Designed to deliver significant improvements in tire rolling resistance and vehicle aerodynamics compared to standard sized tires, Ecopia EP600 tires reduce energy consumption to enhance vehicle range and help drivers maintain their vehicle's sporty appearance and year-round mobility while delivering all-season traction, even in light snow.
Bridgestone's ologic technology was voted "Tire Technology of the Year" in the Tire Technology International Awards for Innovation and Excellence in 2014. It combines a large diameter tire with a narrow tread pattern to conserve energy that is otherwise lost through the tire's internal friction or the vehicle's aerodynamic resistance. While the tread of smaller diameter tires experience a higher percentage of deflection as they roll, the tread of larger diameter tires can feature higher belt tension and experience a lower percentage of deflection that significantly reduces tire deformation and rolling resistance. The narrow tread also improves tire and vehicle aerodynamics that reduce drag.
Unique in appearance, Ecopia EP600 tires feature an all-season tread compound molded into a four-rib asymmetric tread design featuring a long contact patch (relative to its narrow width) that promotes grip in dry, wet and wintry conditions. Large outboard shoulder blocks backed by three notched circumferential ribs enhance dry road traction and stopping distances. A long and narrow contact patch and three circumferential grooves help the tire slice through water to enhance wet traction while multiple sipes increase the number of biting edges to increase traction in snow.